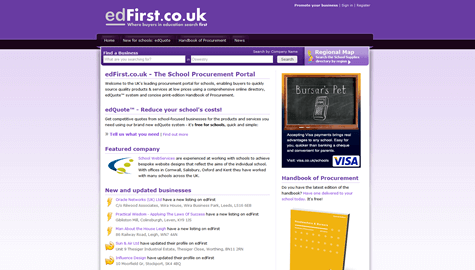 Dodgy unsolicited sales calls and scams are pretty much the norm these days, and we tend to take them from granted, those of us who are savvy do not fall for them, but  there are still plenty of people out there who do get scammed and swindled out of their hard-earned cash by these unethical sales people / swindlers.
The more of us that document these scams and companies implementing them, the less effective they will be as more people get into the habit of searching online first for reviews.
If you have been scammed or feel that someone is trying to scam you, then you should report them to trading standards or National Trading Standards.
–
So I had a phone call recently from this chap called Dale (if that was even his real name) at edfirst.co.uk (aka School Supplies Service), asking me if I did IT support for schools, and how he was looking for providers in my area as currently, they did not have any and the schools were in need of IT providers. He lamented how his company was the main supplier for schools and involved in all the tenders and how I would be listed as the "go to guy" on the school's database for my entire area and would make a lot of money as a result. He also made a point of telling me they do not make any money from this and are not allowed to charge anything for this service.
I was still interested and listening at this point, but it all went downhill when he then went on to mention the company he had called before me, and how he had spoken to someone called "Tina", but she needed to speak with her boss first, so he had called the next person on the list, which was me. He then proceeded to try to play me off against them, stating that the first one to sign-up would be the sole provider for my area, and I really needed to sign up right now or he would then call the next person on the list, and then asked me for a £500 registration fee.
Alarm bells now started to ring, as clearly any legitimate tendering service would not have any requirement for you sign-up there and then on the spot or lose your chance, and trying to play me off against someone else like that is quite clearly a scam, plus he had contradicted his earlier statement of them not making any money from this by asking me for £500. So I made my excuses and asked him to email the details over to me, so I could check up on this company.
I checked out the edFirst.co.uk website and it seemed to be just another directory website targeted at schools, who do little more than supply a printed version of their directory to the schools.  After a bit of googling, I found numerous feedback from others which confirmed my suspicions and those who had paid the fee to be listed had got no work from it.
(note since I wrote this the majority of the links I posted below stopped working and the negative reviews/comments have mysteriously been removed (no doubt due to threats and harassment from Steve Meredith), so I have removed the links)
Other Reviews/Feedback

https://www.electriciansforums.co.uk/threads/edfirst-school-supplies-service.117425/
https://my.bookkeepers.org.uk/Forum.aspx?type=&cid=0&tid=83284&lp=0&page=0&sort=
https://landscapejuicenetwork.com/forum/topics/school-supplies-service-ltd
https://forums.moneysavingexpert.com/showthread.php?p=74161688
I also called the IT support company he had tried to play me off against and spoke to Tina, and she confirmed the conversation and that he had tried exactly the same thing on her, and tried to play her off on the company he had called prior to calling her.
So I then contacted a few of my local schools, and surprise surprise, they had never heard of EdFirst or Schools Supply service and everything I had been told was a complete lie.
Needless to say I replied to Dales and advised that I would not be parting with my cash on this occasion.
Since posting this article, I have received numerous threats and harassment from Steve Meredith (the owner) in an attempt to intimidate me into removing this post. Obviously it has not worked.
Do not believe Trustpilot reviews
I did originally post my review on Trustpilot, but sadly Trustpilot also has a reputation of being unethical and biased and  they will gladly remove negative reviews if you pay them. I have seen many negative reviews appear and disappear after being reported by Steve Meredith,  and it seems pretty obvious that the positive reviews on both Trustpilot and Google are completely fake.
I did try to re-post my review a few times, but alas Steve Meredith (The Director)  kept reporting them and getting them removed, which is what resulted in my creating this post instead, which has received quite a lot of views to date.
Some of the completely false reasons Steve Meredith gave for reporting my review include:- "it was fake and they never contacted me", "he had a country court judgement against me", "I was a competitor", "my review was defamatory".
I recommend using SiteJabber instead of TrustPilot to post reviews, which so far has proved to be reliabled and unbiased.