In case you missed it, Windows 10 Technical Preview has actually been out for quite a while now, and if you have a spare old computer or the ability to run a virtual machine, then you might want to give it a try, especially if you are an avid hater of the Windows 8 start screen 🙂
I have been running it for a few weeks now and it has been stable so far and has certainly got rid of those Windows 8 niggles, but one of big questions I had before I started, was what are the hardware requirements, and can my existing pc run windows 10?
The good news is that the overall hardware requirements are no higher than windows 7 or Windows 8, so if you are running either of these then your PC does have enough power. FYI I am running Windows 10 on a Dell Optiplex 760, which has 4GB RAM and a Intel Core 2 Quad CPU, the same spec system that I am running Windows 8 on, and it runs just fine.
The basic requirements
Fortunately for us, Microsoft has has made things easier and has published the system requirements for Windows 10. So click the link and take a look at that document and we will go through it step by step.
First thing to note is this statement
"Basically, if your PC can run Windows 8.1, you're good to go. If you're not sure, don't worry–Windows will check your system to make sure it can install the preview."
When I saw this I was like "YEAAA AWESOME", but it seems this is a bit of a oversimplification. In simple terms, most people running a Windows 8/8.1 system are likely to be able to run Windows 10. But if you're not sure, the installer will run a check to make sure before trying to install the operating system onto incompatible hardware.
Had you not read all the requirements doc completely then you might miss this bit:-
"Some PC processors and hardware configurations aren't supported by Technical Preview, including a small number of older, 64-bit CPUs, and some 32 GB and all 16 GB devices running a compressed operating system."
This is a Technical Preview limitation that should disappear once Windows 10 is officially release. However, it could stump some people trying to test out the preview, so be aware – specifically that "some 32 GB and all 16 GB devices running a compressed operating system" bit.
Checking your hardware
So, what if you're still running Windows 7 or Vista? How can you decide if your hardware meets the requirements of running Windows 10? This is where the hardware specs come in useful.
Here's what Microsoft says you need to run the Windows 10 preview:
Processor: 1 GHz or faster
RAM: 1 GB for 32-bit or 2 GB for 64-bit
Free hard disk space: 16 GB for 32-bit or 20 GB for 64-bit
Graphics card: Microsoft DirectX 9 graphics device with WDDM driver
A Microsoft account and Internet access
This however misses  one important bit of information as it assume you are running windows 8 and thus already met this requirement in order to Install windows 8 to begin with.
Processor: 1 gigahertz (GHz) or faster with support for PAE, NX, and SSE2
So in order to be able to run Windows 10 (or Windows 8/8.1), you need a processor that supports PAE, NX, and SSE2. Without this, your Windows 10 fun comes to an end and you will get the below message.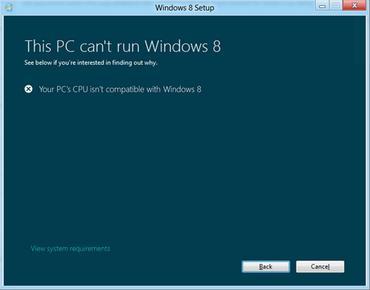 So what do these CPU requirements mean ?
PAE this gives ye olde 32-bit processors the ability to use more than 4 GB of physical memory on capable versions of Windows, and is a prerequisite for NX.
NX helps your processor guard the PC from attacks by malicious software.
SSE2 is a standard instruction set on processors that is increasingly used by third-party apps and drivers.
There's more technical information on these features here.
Upgrade path
To help with upgrades Microsoft has offered up this upgrade matrix outlining the upgrade options to Windows 10:
So, how can you tell if your processor supports all of this?
Luckily there are a few ways you can do this.
First is to download the Windows 8/8.1 Upgrade Assistant. If your hardware is not up to the job, itwill tell you so.
You could try installing Windows 8/8.1. If it won't work, the installer will tell you.
Download this handy utility called CPU-Z. Look under Instructions and if you see SSE2,EM64T (indicates the processor has support for PAE) and either VT-d or VT-x (which is what's needed for NX support) then you're ready to rock.

You also need to be aware that while your processor might support NZ, it could be disabled in the system BIOS, so you may have to dig aroundand look for this setting and enable it.
To install a 64-bit version of Windows 8.1 (not Windows 8) on a 64-bit PC, your processor also needs to support CMPXCHG16b(which also, annoyingly, needs motherboard support, so it can be hard to test for), PrefetchW, and LAHF/SAHF, which adds more confusion. Fortunately, most people will have this already.
Don't have a spare PC, how about a VM ?
If you don;t have a spare pc and do not want to risk nuking your primary pc, you could instead run Windows 10 from the comfort and safety of a virtual machine environment. There are numerous options here such as VirtualBox, Hyper-V, or something like VMware Workstation. It all seems to work well as long as your hardware supports virtualization and your system has sufficient resources to run two operating systems side-by-side.
nb: credit to Adrian Kingsley-Hughes at zdnet for some of this info.