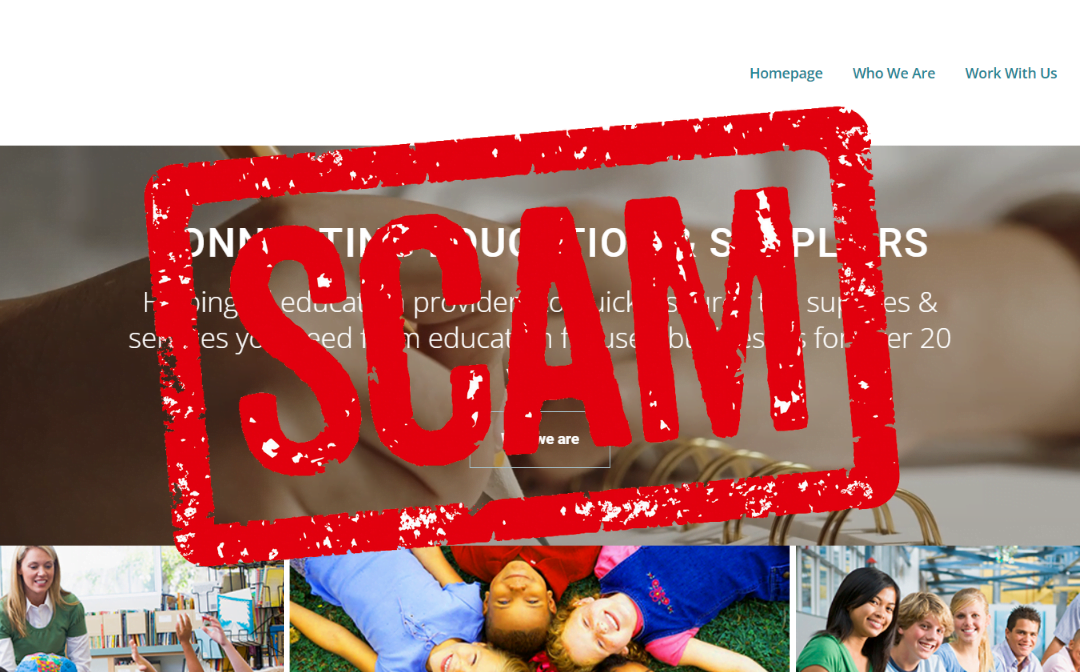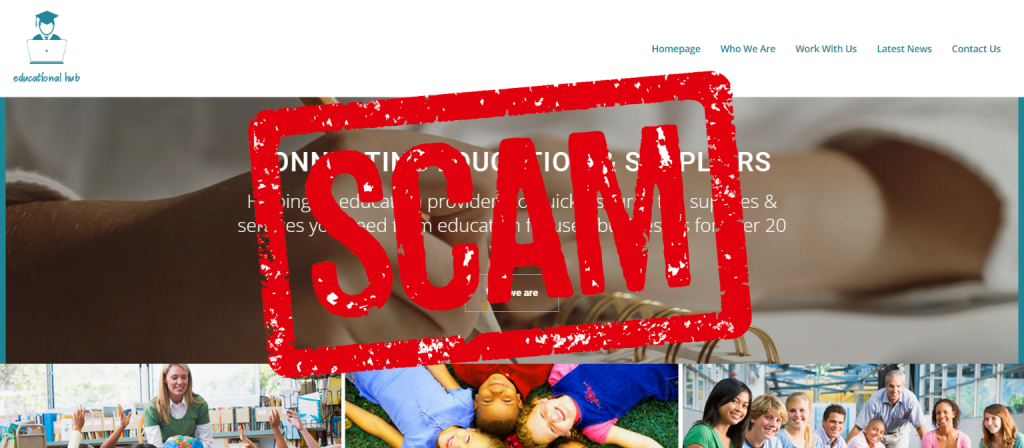 Update: Sept 2022

Another name change. School Supplies Services Limited have now changed their name to "SKY BLUE PURCHASING, DEVELOPMENTS AND DESIGN LIMITED" on 9th August 2022, with a new website skyblueeducation.co.uk
Update: Dec 13th 2021
I have updated this article from October 2017 to add new info that has come to light.
This company is now trading under the name "Educational Hub"

Ironically they have also tried this scam on both myself and my wife again this year.
Scammers have become so ubiquitous thanks to the Internet that we just take them for granted these days, you just cannot get away from them. You are constantly bombarded with scams via email, sms, phone calls, social media, popups on websites, those of us who are savvy do not fall for them, but sadly there are still plenty of people out there who do get scammed and swindled out of their hard-earned cash by these despicable people.
The more of us that document these scams and companies implementing them, the less effective they will be as more people get into the habit of searching online first for reviews, so I do encourage people to post on review sites like reviews.co.uk, SiteJabber, Trustpilot (with caveats, see below) and report them to Action Fraud.
So I had a phone call recently from this chap called Dale at Ed First (aka School Supplies Service aka the Educational Hub aka BlueSky Education), asking me if I did IT support for schools, and how he was looking for providers in my area as currently, they did not have any and the schools were in need of IT providers.
He lamented how his company was the main supplier for schools and involved in all the tenders and how I would be listed as the "go to guy" on the school's database for my entire area and would make a lot of money as a result. He also made a point of telling me they do not make any money from this and are not allowed to charge anything for this service.
I was still interested and listening at this point, but it all went downhill when he then went on to mention the company he had called before me, and how he had spoken to someone called "Tina", but she needed to speak with her boss first, so he had called the next person on the list, which was me. He then proceeded to try to play me off against them, stating that the first one to sign-up would be the sole provider for my area, and I really needed to sign up right now or he would then call the next person on the list, and then asked me for a £500 registration fee.
The "this is a scam" alarm bells now started to ring, as any legitimate tendering service does not have any requirement for you sign-up there and then on the spot or lose your chance, that is not how tenders work. Plus, trying to play me off against someone else like that is a very blatant unethical sales practice, plus he had contradicted his earlier statement of them not making any money from this by then asking me for £500. So I made my excuses and asked him to email the details over to me, so I could go and look up this company online.
I then went online and checked out the edFirst.co.uk website and it seemed to be just a simple directory website targeted at schools, who do little more than supplying a printed version of their directory to the schools. After a bit of googling, I found numerous feedback from others that confirmed my suspicions, and those who had paid the fee to be listed had got no work from it.
I also called the IT support company he had tried to play me off against and spoke to Tina, and she confirmed the conversation she had with Dale and that he had tried exactly the same thing on her and tried to play her off on the company he had called prior to calling her.
I was absolutely sure it was a scam at this point, but to determine just how much of a scam, I called a few of my local schools as well. Unsurprisingly none of them had ever heard of this company and have never dealt with them and certainly do not use them to source providers or contractors. It seems even the printed catalog is fake, as nobody I spoke had ever seen that either.
Since I posted this, I have received numerous threats and harassment from Stephen Meredith in his attempts to get me to remove this post. Mr Meredith was one of the many directors at School Supplies Service, although he seems to have retired in October 2019 according to companies house.
If you check the people involved with Schools Supplies Service Limited, they all seem to be involved with several other companies as well. One that specifically stands out as having many of the same directors is Tenders and contracts Ltd. which operates from the website tenders4u.co.uk which is promoted on all their other websites.
Here are all the various trading names and related companies that I am aware.
Here are the people involved with these scam businesses. Links to public information at companies house.
If you discover any more trading names for these bunch of rogue traders, let me know, and I will add them to the list.
Below are screenshots from 3 of their sites, as you can see, same site, same phone number, and different names. Although edfirst no longer seems to exist, I guess they had to shut that one down as it had become too well known. The educational hub seems to the name they are now using in their scam sales calls.
Reviews on Trustpilot
I did post a review on Trustpilot originally, but unsurprisingly, Stephen Meredith had it removed.
I was told by Gemma P from the Trustpilot compliance team that literally every single part of my review was defamatory and had to be removed. I was not allowed to mention the person who called me, or what was said during the phone conversation or mention the other reviews/feedback found publicly online. I was advised by Gemma that I would need to provide police/court evidence to back up everything I have written above, which is obviously quite ludicrous and impossible.
Basically, I was thwarted from posting anything negative, so I can only assume that edFirst aka School Supplies Service are using Trustpilot's paid service, which allows any business to request the removal of negative reviews and manipulate their ratings.
This has unfortunately been a regular issue with Trustpilot, read my review on Trustpilot for more details on why Trustpilot generally cannot be trusted.
Never go by the score alone, always actually read the reviews, as is it a common practice that if a company is not able to get all the negative reviews removed (presumably because they do not want to pay or it is too time-consuming) then they will instead try to hide them by getting a bunch of fake 5 star positive reviews to push the bad ones off page 1. This can still result in a company having a good score despite lots of bad reviews.
NOTE: Since I originally posted this, they now have loads of negative reviews on trustpilot, I guess since Mr Meredith retired, nobody took over the job of getting them all removed.