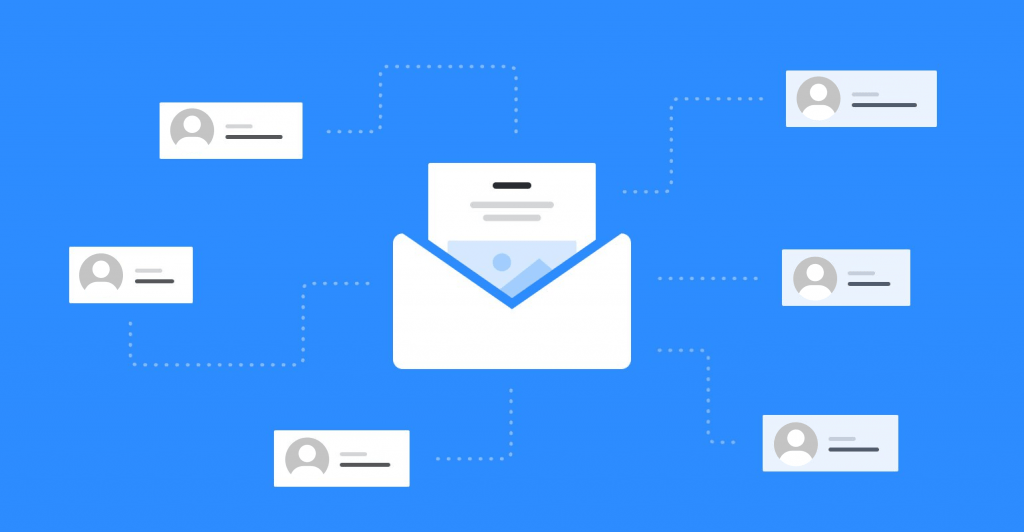 Wondering how to build an email list from scratch or continue to add quality subscribers? Learn how to develop a healthy email list that will deliver an amazing return on investment and help you grow your customer base.
Email is the most effective marketing channel on the planet because you get to talk directly to the people who want to hear from you. This opens up amazing opportunities to build relationships and sell your products and services. But before you jump for joy, there is 1 major hurdle—building a high-quality email list.
Your subscribers are the lifeblood of your email marketing strategy. You need to grow your list to keep your campaigns healthy.
How?
By understanding your audience (or customers) needs, you can create compelling offers that entice more people to sign up to your list.
And when it's time for someone to opt-in, tools like MailerLite provide the signup forms and landing pages that you need to collect subscriber email addresses.
You will note that this article focuses on MailerLite, which is because this is the solution I use myself. I chose mailerlite after many years testing out many different mailing list solutions, so this is the one I tend to recommend.
Let's get started and turn your followers and website visitors into subscribers!
---
What is an email list?
An email list is a database that contains the email addresses of people who gave their consent to receive your email campaigns.
It's a collection of email addresses collected by you online or in person, for example using signup forms, an app or by placing an actual email signup form in your store. There are many ways to collect emails—as you'll soon find out in this guide!
The email addresses are just the data. What you do with them afterwards is where the real magic happens. Every email list has the potential to grow into a source of income.
With the right approach, you can establish a relationship with the person on the other end of the line. When you talk to your subscribers, listen to their needs and personalize your solutions to their individual preferences, your list will become a high-converting tool containing loyal customers.
Why you should start building an email list
Have you ever heard people say: "The money is in your email list." We would argue that this is true, but the real value of email marketing is the long-term relationships you are able to build.
With email marketing, you can have direct contact with your email subscribers, you can build relationships and turn strangers into loyal customers. This isn't done overnight, but with the right strategy and enough time, you'll see that it's possible—whether you start building your email list from scratch or you're expanding your existing email list.
Websites can crash, social media accounts can be shut down… but your email list will keep you connected to your audience, every time. Email isn't going out of fashion anytime soon! Building your email list is the safest, most effective way to stay in touch with potential leads.
Before you start building your list
Building your email list is similar to finding a new friend. When you meet for the first time, you want to make a good impression and find shared interests.
The same is true with email marketing. When someone comes across your brand, it's up to you to find a common connection and offer them something that kicks off the relationship.
The best email lists are built using this basic formula:
Know what your audience wants
Create offers that they will like
Make it easy for them to subscribe
Consistently share relevant, valuable content
Step 1. Audience insights
Do you know your target audience and how to meet their needs?
Once you understand the pain points, demographics, interests and business needs of your potential customers, you will be able to start creating content and incentives that they will gladly exchange their email address for the value you offer. You can also then use segmentation to make your emails even more targeted to different audiences within your list.
👉 Tip: Get feedback from your current subscribers by sending out a survey to see what value people are getting from your services. For example, MailerLite has a large customer base of book authors who need landing pages designed to highlight their books. With this knowledge, we attract more authors highlighting landing pages designed just for them.
Step 2. Compelling offer
People are always searching for things that will help them. Whether it's knowledge, good deals or anything that will make their lives easier, your job is to offer your audience something of value that compels them to engage.
👉 Tip: Offer people a lead magnet—things that have a high perceived value that no one else can get without signing up. Things like a giveaway, freebies, podcasts, webinars, case studies, free ebooks, cheat sheets for business owners, special discounts, or exclusive access to content work well to promote signups.
Step 3. Subscribe quickly
When your audience accepts your offer, you need to make it super easy for them to opt-in right away. Always having a subscription opportunity available at the right time and place.
👉 Tip: Don't get greedy and try to ask for too much information. All you really need is their email address. You can get more info from them after you build trust.
Step 4. Share valuable content
Once you're up and running, you'll need to keep your subscribers engaged with regular, relevant content (otherwise their eyes might wander to the unsubscribe button)!
Before building your email list, define your content marketing strategy. What will your welcome email look like? How often will you send out campaigns? How will you design the email branding? How will you keep people engaged in the long term?
Establish a clear content strategy before building your email list so that you can offer strong, compelling content as soon as people sign up.
👉 Tip: Read this guide on crafting the perfect email marketing content to create emails that keep your subscribers excited about you and your business!
These 4 steps make up the basic foundation of what you need to acquire subscribers. But you'll still need to engage them at the right time when they are most likely to share their email address.
Here are a few ways to ensure your opt-in forms are ready to go.
How to build an email list from scratch: 12 easy hacks
In the offline world, the best time to engage a potential customer is when they come to you. You already know that they are curious about your business.
It's your job to make them feel welcome, figure out their needs, and clearly explain how you can help them.
It's the same in the online world! Your website, blog, homepage and landing pages serve the same purpose online. People are on your pages because you offer something that they want.
The best time to ask people for their email is when they are highly engaged with your content.
When done correctly, you can transform your site into an email list-building machine with amazing conversion rates!
So without further ado, here are 12 straightforward, no-nonsense ways to quickly build your email list…
1. Add signup forms to your website
Every page of your site could be an opportunity to build your list. Make it really easy for people to find the signup forms.
The more opt-in forms that you place on your site, the more chances you'll have to convert visitors into subscribers. The key is to never interrupt their user experience. There are plenty of places that allow visitors to spot the form no matter where they are on your site or blog.
MailerLite provides a web form builder that allows you to design signup forms for your website or blog. You can customize the form to fit your brand and style.
Here are some places on your site that convert well:
The top of the sidebar is the most popular location to place a form, especially on your blog. It is one of the first things a reader will see when they visit.
Your blog is a great place to grow your list. If readers are engaged with your thinking, they will want more. Place an opt-in form at the end of each blog with a call to action (CTA), allowing readers to connect while you are top-of-mind.
Placing a signup form permanently in your footer ensures that the visitors who like what they are reading have an immediate way to take action.
Finally, it's a good idea to review your Google Analytics to find your most popular pages. For many sites, the About page is one of the most visited pages. Try adding a form in the middle with an enticing call-to-action or offer.
Not sure where to start? 🤔
Learn everything about signup forms and more in the MailerLite Academy email marketing course (plus, you get certified as an expert at the end)!
2. Personalize your CTAs for each page
Your CTA is the button text that persuades people to click through! You probably recognize the classic ones:
Sign up
Register
Submit
Download
But you can also personalize your CTA to match the demographics, needs and desires of your audience. You can demonstrate the value you're offering, with CTAs like:
Get 30 days free
Try it now
Claim my free cookie
Give me 50% off
And if appropriate, you could even adopt sarcasm, humor, or a more lighthearted tone. These can bring a smile to people's faces, and they might be even more inclined to click!
Yes, I want a chance to win / No, I hate winning things
Let's gooooo
Be awesome
Count. Me. In.
For more CTA inspiration, take a look at this guide below!How to create a call-to-action (CTA) that works
3. Create pop-ups that work
Pop-ups have a mixed reputation, but can be extremely effective when done right.
For many people, pop-ups interrupt the user experience which is the worst thing you can do if you are trying to attract new subscribers. At the same time, a study by Sumo found that when pop-ups are used at the right times, they can generate 40% conversation rates.
How can you use pop-ups without ruining the user experience?
There are new ways you can use pop-ups that minimize interruption. For example, MailerLite's pop-up feature enables you to set the timing of when the pop-up arrives. Give your visitors some time to read the content before triggering a pop-up.
Many businesses find success with exit-intent pop-up forms, where the form pops up right when the visitor leaves.
Another location that catches the visitors eye without being annoying is the sidebox pop-up. Most of the time the pop-up doesn't cover important content so the interruption isn't that bad.
The key is to balance a great user-experience while still using your blog and website to acquire email addresses. When you use pop-ups, keep an eye on your analytics to ensure the pop-ups aren't negatively affecting your time-on-site, page views or bounce rates.
​How to do pop-ups right
The world is experiencing a pop-up renaissance. When used properly, pop-ups can be your secret weapon for growing your subscriber list and promoting your business. Just don't annoy your audience. To see how to do them right, check out these pop-up examples and types.
4. Optimize landing pages with best practices
All your social media channels and outbound marketing initiatives (such as advertising) should link back to a custom landing page designed specifically to capture email addresses.
Social media is a powerful platform for running your online business—and so is email marketing! So why not combine their forces?
For social sites, such as LinkedIn, Instagram or Twitter, you can find places to include links that drive your followers to a landing page. Remember, you have to offer something of value that motivates people to click. Running contests, giveaways, offering free downloads or exclusive product discounts are good ways to attract attention.
When a potential customer clicks a link to your offer, it is up to you to make sure your landing page entices them and gives them all the details they need to ultimately convert.
MailerLite makes it easy for you to design custom landing pages or choose from a library of pre-built templates so you can have one up and running in minutes.
Landing page best practices
Don't make the mistake of including too much information. The goal is to make it a no-brainer to input their email address. While there is no one-size-fits-all way to design a landing page, it is good to keep these elements in mind:
1. Strong headline: Your headline should clearly describe the most attractive benefit of your offer.
2. Support points: Back up your claim with a brief description that supports the benefit. Many use bullet points to help the reader scan quickly, but a simple sentence also works well.
3. Appealing imagery: Humans react instantly to visual information. Beautiful imagery can boost conversions as long as it is relevant to the offer.
4. Quick form: It is simple: The less the person needs to do, the higher your conversions. Just ask for their email address.
5. Visible subscribe button: Use a contrasting color for your subscribe button, so that it pops.
We recommend testing your landing pages to see what works best for your audience. Sometimes video works, while other times a list of bullet points does the trick. You can create as many landing pages as you wish with Mailerlite, allowing you to test and experiment until you find your perfect formula. Visit the landing pages gallery for the best examples created by MailerLite customers.
5. Embed lead generation forms on Facebook
If your Facebook followers are not part of your subscriber list, you are missing a huge opportunity to engage with people who already want to hear from you.
MailerLite's integration with Facebook lets you easily embed signup forms on your pages so you can grab emails directly from Facebook without people ever having to leave.
6. Collect subscribers offline
We've talked a lot about finding subscribers online, but what about offline? We still live in the physical world and there are tons of opportunities to meet potential subscribers and ask them to sign up.
Whether you are on a sales call, at a trade show or someone walks into your place of business, every encounter offers a chance to build your list. But remember, you still need their permission. And if you're collecting subscribers offline—such as with handwritten signup forms—then make sure you double check the mailing list with an email validation tool. This will remove any sneaky typos or invalid addresses.
While manually collecting business cards to build your list is fine, MailerLite built an app to give you an even better solution to acquire offline subscribers.
MailerLite's iPad app makes it easy to collect emails and obtain permission. The emails are automatically linked to your Mailerlite account for a seamless list-building program.
More importantly, you get proof of the opt-in, which is always a great data point to keep in the system.
As you can see, there are lots of different ways to gather signups. Now, in these next 6 tips, let's find out how to harness them for the best results!
7. Set up a 'Refer a friend' program
Once you have happy, engaged subscribers, you can persuade them to share the joy with their friends! Referral programs add social proof to your newsletter, and it's more personalized. It's the gift that keeps on giving (or rather—the subscriber that keeps on subscribing)!
The Below the Fold newsletter shares information about an exclusive event, which subscribers can only access if they refer at least one person to subscribe, using a unique referral link via email.
8. Grow with competitions and giveaways
Giveaways are a great way to quickly build hype around your brand—and grow your email list at the same time. Host a competition that people can enter by signing up with their email addresses, and then sit back and watch your list grow!
Book Riot offers regular giveaways on their site as an incentive for people to sign up:
9. Use lead magnets to add value
"Yeah, but what's in it for me?" —We hear it in films, and it's also true for real life; we always want to know what the benefit is for us!
A lead magnet is an item or service that is given away for free—in exchange for a person's contact details. When persuading people to sign up, it helps to add a little incentive into the mix!
Whether it's a downloadable guide, a free ebook or exclusive access to a podcast, make signing up worth the effort.
Lemon Friday helps authors to build their platform on social media. Right now, there's a waitlist to become a member, but they STILL make signing up worthwhile. How? By delivering monthly PDF social media calendars to help people get ahead in the meantime.
10. Harness the power of quizzes and surveys
Share an online quiz or survey—but then ask people to sign up to access the results! By the end of the quiz, you'll have already piqued their curiosity and they'll be itching to know the outcome. A great incentive to sign up.
Warby Parker, an eyewear brand, shares a quiz that helps people to work out which frames are right for them. Once people have completed the quiz, they'll have the option to sign up to access the results, along with an opt-in box to receive marketing emails.
11. Use members-only online events
Webinars and online conferences are an easy way to pick up email addresses. When setting up your event, include a signup form to grow your list at the same time. Wynter Games is an online event for B2B product marketers, and people can sign up for free by entering their email address.
12. Create exclusivity
When people are deciding whether to sign up or not, scarcity and/or exclusivity can play a big role in their final decision. Take a look at this signup form by Backlinko.
Pretty tempting, right? The reason this is so appealing is that it is exclusive. People won't know what the SEO tips are… unless they sign up for the newsletter. It's simple, but effective!
Keep your email list healthy
Simply put, a quality email list is full of engaged subscribers who want to hear from you.
When you build your list organically, your subscribers become a treasure trove of potential revenue just waiting to be tapped. Think about it. People who are interested in your business actually gave you permission to start a relationship. This is an amazing opportunity!
On the other hand, if your email list is full of people that have no interest in you, your emails will fail to connect, or even worse, get marked as spam. This happens when you buy email lists or keep subscribers on the list that have become inactive.
List quality is more powerful than list quantity.
Subscriber email list management is the best way to stay on top of your list and keep it healthy.
---
Make your subscribers extra-happy
Congratulations, you implemented the right tactics and you are starting to grow your list! While your list is growing, don't forget about the people that already signed up.
Did you know that your email list naturally degrades by about 22.5% every year?
You work so hard to acquire your subscribers, the last thing you want is to lose them. While it is normal to lose a percentage of your email list every year, there are several things you can be doing to minimize the churn.
Yes, it is important to keep your subscribers engaged with great content and offers, but there is so much more you can do with MailerLite to maintain a healthy email marketing program.
The remaining chapters of our Ultimate guide to email marketing will help you develop the right kind of email marketing approach to keep your subscribers happy and your business thriving.
In the meantime, wishing you all the best on building your email list!
If you would like help setting up and managing a mailing list, adding popups and signup forms to your website or anything mentioned in this article, give me a shout.
Disclaimer: I use affiliate links (who doesn't), this makes no difference to you, but gives me a small commission if you then decide to make a purchase from that company. Please note I do not ever recommend a product or service just to get clicks. Unlike a large proportion of reviews out there, my reviews are legitimate, honest and based on personal experience of actually using said product/service. If you have a problem with affiliate links, don't click them, simples.