Anyone from my generation or older will have heard of Dreamland. At the height of its popularity in the 1960s, when it attracted more than two million thrill-seekers a year, Dreamland boasted a wall of death run by legendary stunt motorcyclist Yvonne Stagg, which was covered in Anderson's unsettling 1953 documentary film, O Dreamland, with its terrifying animatronic electric chair and Haunted Snail ride.
In its hay day, Dreamland was at the cutting edge of fairground excitement. But by todays fairground standards the rides feel  rather lackluster. Rather than competing with the high-tech thrills of Alton Towers and Thorpe Park, it has opted to try and maintain that retro feel with its gentle, sweetly retro vision of seaside fun created by designer Wayne Hemingway. Old rides and paraphernalia have been refurbished and recycled. 17 rides are currently open, which may be enough for a day out forthose with not too high expectations, ranging from the vintage galloper merry-go-round, its handsome, brightly painted steeds performing a stately dance, to the hectic, waltzer-meets-roller coaster swoops of the Crazy Mouse.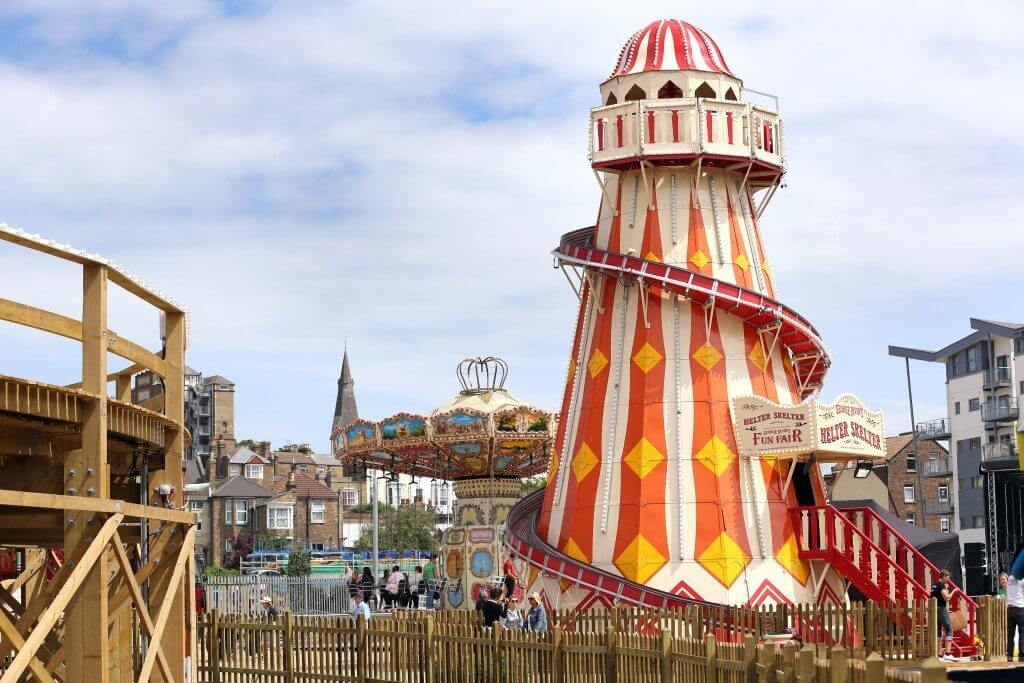 I recently took my 2 boys Bret (8) and Austin (11), which cost roughly about £40 for the 3 of us. Had this resulted in a fun day out then I would have said that is a very reasonable price indeed. My thought process was, even though I found the rides old, dull and boring and cannot go on anything that makes me dizzy anyway, my kids would probably be entertained well enough for the day, but sadly this was not to be the case. Despite the fact that the park was fairly quiet and there were barely any queues, my kids got bored and we were done within 2 hours. Sadly the rides are just too old and dull to keep anyone entertained for long, even kids. I think their decision to go for retro style rides was a mistake, and won't keep people coming back for subsequent visits, overall it really isn't any more fun than those travelling fun fairs, aside from those 2 rides which were closed anyway.
The 2 rides they really wanted to go on, crazy mouse and the scenic railway were still offline which was the first disappointment, this was then followed by further angst as each ride they tried to go on Bret was told he was not tall enough. This resulted in one very disappointed 8 year old and an 11 year who was forced to go on the rides by himself without his brother, which diminished his enjoyment and stopped him wanting to go on the rides more than once. Had they been able to go on all the rides together then they would likely have gone on them again and again. The remaining rides that they could both go on were generally a bit too retro and dull.
Had we been going to a big theme park, them I would have expected to encounter height restrictions on the big scary rides, but considering the retro 60's nature of Dreamland I just didn't expect this to be an issue, and there was no information about these restrictions until you get into the fair itself, and the ticket staff did not bother to mention this either.
The day after I did actually contact Dreamland via their website with feedback and suggested they put these restrictions in plain view outside where you buy the tickets, to avoid such disappointments for other families. Their response was to point out that this information is on their website, which is true, but their emails felt like a typical uncaring canned response  and not really adequate in my books, and doesn't help those who did not think to check the website, certainly grandparents bringing their grandchildren out for the day would likely not even know how to do that.
I had also sent them some feedback RE octopus garden,which is a kids play area and the total lack of security, and the replies I received  from customer services were very belligerent and nonchalant and they are in total denial that there is any problem with their security at all. When I said I would video the security problems for them next time I was there and send it over for them to see, they responded by threatening me, so clearly the safety of your kids is  of little interest to them.