Author: Jimmy Rodela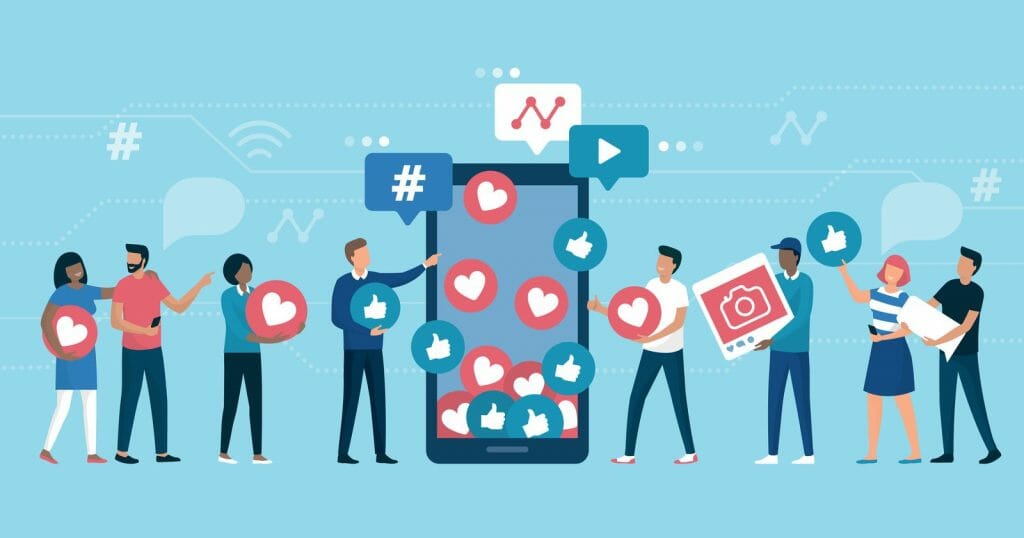 You need a reliable strategy to engage your audience to succeed in social media marketing.
After all, you could have thousands of Facebook and Instagram followers, but if you don't engage them effectively, they end up as passive audiences instead of paying customers.
The solution? Leverage reliable audience engagement tips to optimize your social media marketing efforts.

That is what this guide is all about.

Read on to learn about some of the best ways to engage your social media followers to increase your conversion rates and sales.
1. Respond to your followers
Social media users generally want to feel like they interact with humans and not a faceless brand.
That is why you shouldn't limit your audience interactions to your customer service software chatbot on Facebook (and other social media channels).
Reply to your audience comments, mentions, etc., to engage your followers.
Join your audiences' conversations and comment to encourage constant interactions with your brand.
If someone leaves a comment saying, "This is amazing," replying with "Thank you! We like it too!" can make a huge difference in how your followers see your brand.
Also, acknowledge mentions and posts of followers using your products. This comment from Barkbox is a good example.

Responding to your followers' comments can help your brand come off as more "human," friendly, and interesting. This lets you connect with your audiences better.
Take your responses to the next level by using the person's name when replying to their comments.
Addressing your audiences personally can help them feel more special and connected to your business.
2. Use high quality visual content
Leverage high-quality visuals to help your business and content stand out from the hundreds of other brands on social media.
Post stunning and catchy videos, photos, GIFs, and other visual content types to grab your audiences' attention.
Follow these tips to help you create effective visual content for social media.
Develop a visual strategy. A visual strategy allows you to create visual content with a narrative, timing, purpose, and other strategic elements.
Include audience research, themes, mood board, and the specific platforms you want to use in your visual strategy.
Know the basics of creating visual content. While you can unleash your creativity to create unique visual content, following the basic rules can increase your chances of succeeding.
For example, it's always best to have a single focal point in your images, choose complementary colors, avoid over-editing.
Streamline producing visual content. Creating content takes time and effort. Optimize your social media content creation process by using nifty project management software.
The software helps you organize, manage, and prioritize your visual content creation tasks for seamless workflows.
Use the right social media visual content and strategies to give audiences a good reason to like, comment, share your posts, and, in turn, buy from you.
3. Encourage user generated content
Leverage User-Generated Content (UGC) to help drive engagement and connect with your audiences better.
UGC is anything your audiences and social media users create that you can share on your profile or feed.
When used properly, UGC can benefit both your audiences and your brand. It encourages audiences to interact with your brand while featuring their content on your social media page or profile.
Below are some of the best ways to encourage users to create and share content for your UGC strategies.
Use a compelling Call-to-Action (CTA) and offer incentives. Entice your audiences to create UGC with a catchy CTA and an irresistible offer.
For example, you can ask your followers to share photos of them using their favorite products from your store and offer a 10% discount coupon.
Create a hashtag strategy. Using hashtags can help expand your UGC's reach beyond your followers.
Leverage branded and relevant hashtags with your UGCs. This helps you get more people to tune in to your content, increasing your opportunities to engage more people.
Hilton Grand Vacations has a strong UGC hashtag game. The brand asks Instagram users to include the #myhgv in their posts and shares the best images on the brand's feed.
It's a great way to inspire audiences to book their next holiday with the company.
A solid UGC campaign strategy can be one of your steps to social media success. This can result in higher audience engagement and more conversions.
4. Post regularly
Effectively engaging your social media audiences requires maintaining a solid online presence. Posting content to your social media channels regularly can help you achieve this.
Keep your content flowing to engage your audiences continuously.
For example, if you're sharing content about conducting online seminars and conferences, follow it up by sharing a blog post on online summits vs. conferences.
It's also crucial to post content at peak hours for maximum content exposure and avoid missing audience engagement opportunities.
As such, you'll need to know the best time to post your content when your target audiences are most likely to respond.
You can't be at your laptop 24/7, so leverage social media content scheduling tools instead.

For example, Hootsuite lets you plan, create, and prep your social media posts on a schedule, so that you can say goodbye to manual posting.
Hootsuite also offers essential features to help you stay on top of your social media engagement efforts. This includes an option to tag and track positive engagements for your weekly and monthly reports.
5. Leverage social media engagement tools
Streamline your social media audience engagement efforts using the right tools, such as:
Video creation apps. Generate more audience engagement by creating compelling and catchy videos. If you don't have an in-house graphic designer, opt for user-friendly video editing apps to create beautiful social media videos yourself.
Photo editing software. Use photo editors to crop, add filters and effects, and adjust your images' sharpness and saturation properly, even without graphic design skills.
You'll get professional-looking images to help engage your social media audiences without burning through your marketing budget.
Analytics apps. Analyzing your audience engagement initiatives tells you where and how you succeeded or failed. Use analytics apps to measure your performance and gain actionable insights to improve your engagement efforts.
Are you ready to achieve social media marketing success?
It's not only your number of followers that will set your business on the path to successful social media marketing.

You need to have a solid audience engagement strategy to connect with your audience, reach more people, and ultimately encourage them to buy your products.
Start your engagement efforts with the tips in this guide and build on them to develop your strategy.